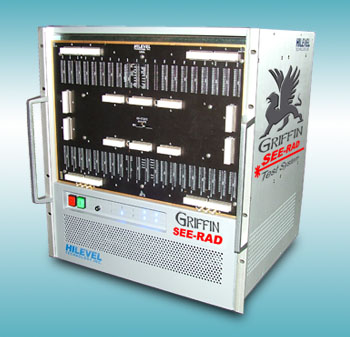 Ask your

HILEVEL

representative for more information on the Griffin SEE-RAD Test System.




17805 Sky Park Circle, Suite E, Irvine CA, 92614
The SEE-RAD test system brings together the proven features of our ETS780 tester (such as true APG memory test and powerful FA tools) with the newest technology of the Griffin III. With all new high-accuracy DC Parametrics, superior precision pin drivers, and capture memory of 64M, the Griffin SEE-RAD combines the newest innovations in the test industry with our years of experience in Radiation Test.

Features


Test rates up to 100MHz (50MHz All Modes)


True APG Memory Test


Two strobes per cycle


Up to 512 pins

Real time failure counter


Display "capture fails only" mode


High-speed acquisition search


Full "next cycle" operation


64Meg capture depth


Programmable loads and parallel loads


Multiple high-precision DC PMU units


Timing On-the-Fly
Crucial to good signals over long cables is the quality of the pin drivers for signal consistency and to reduce noise to a minimum. For noise is additive, and noise being present on the lines at the moment of exposure and observation has a likelihood that is real, even if the possibility is low. The key is a high quality driver and reliable environment. The HiLevel drivers are better than ever, delivering 50 mA of drive current in a controlled 50-Ohm environment, even being programmable to drive below 0 volts. And our internal programmable loads help with termination to keep DUT output signals clean.