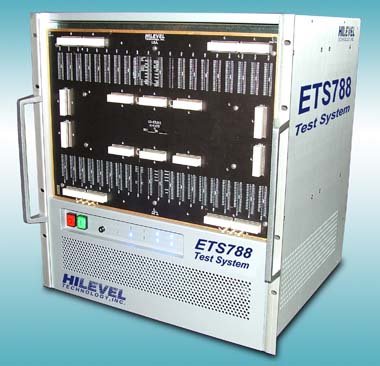 17805 Sky Park Circle, Suite E, Irvine CA, 92614
The 55/110 MHz ETS788 system boasts the same small footprint and cool quiet CMOS architecture as our ETS780 but with the new high-performance precision components of our Griffin series. This powerful member of the HiLevel family takes advantage of all of the tried and true features that have served users so successfully to date. Learn why the ETS788 is the perfect cost-effective solution for higher performance in Design Verification, Production and Failure Analysis.
Features

Test rates up to 55MHz

Clocks to 110MHz

High Pin Count: Up to 512 pins in ONE Chassis

5 mV logic resolution

32 Programmable timing generators, 50ps edge placement resolution

Continous edge placement - no dead zones!

Low Cost

Per-pin programmability - all pins bidirectional

Mixed Signal Option

4M test vector depth, 64M capture depth

Programmable loads and parallel loads

Multiple DC PMU units - PMU per 32 pins

Test Automation without C programming or debug

APG Memory Test

Timing On-the-Fly

Oscilloscope function

Curve Tracing